Managing Users in Analytics by Liaison
Last updated
User Roles
There are two user roles in Analytics by Liaison:
Administrator
Administrators are created by Liaison as part of the Analytics by Liaison onboarding process. Administrators can access all reporting and analytics features and can also invite and manage Report Users.
Report User
Report users can access all reporting and analytics features, but they can't invite or manage other Analytics by Liaison users.
Add a New Report User
To add a new Report User (note: you must be an administrator to complete this process):
Sign in to Analytics by Liaison: https://analytics.liaisoncas.com/analytics/ui/login.
Click Settings in the menu, then click Manage Users.
Click Add User, enter the required information, then click Add.
Direct the user to watch for an email prompting them to Activate Account.
Once the user clicks the Activate Account button in the email, they're prompted to enter some additional information (including a password) before they can finish activation.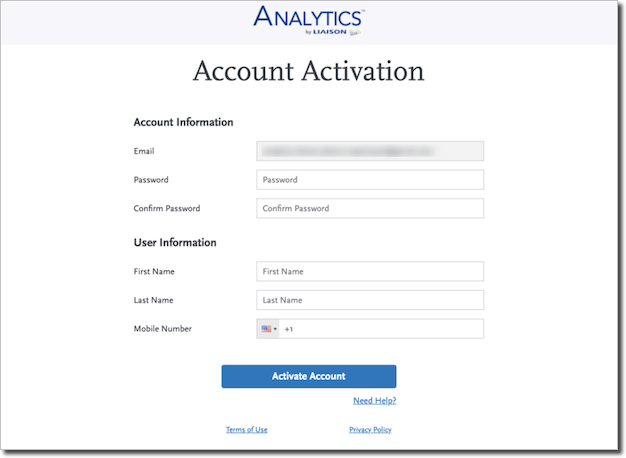 Note: the email address can't be modified.
Resend or Cancel an Account Activation Email
If you need to resend an account activation email for a user who has not yet activated their account, return to the Manage Users page, select the user, and click Resend Invite. You can also choose to Cancel Invite.
Remove a User
To remove a user, contact your Liaison representative.