Sprint 13 – July 8, 2018
Last updated
About These Release Notes
This document provides a summary of the new features and enhancements available in the Sprint 13 release. If you have any questions about these features, please contact your Account Manager.
New Features and Enhancements
WebAdMIT Enhancements
The following enhancement is available for WebAdMIT as part of Sprint 13.
1. Updated Workflow for Batch Local Status Changes
This enhancement applies to all CASs immediately.
This enhancement updates the workflow when changing Local Statuses in batch, making it a three-step process. Prior to selecting the desired Local Status, you are asked to select the designation(s) you'd like this change to impact. This selection then limits the new Local Status options, based on what Local Statuses are compatible with the desired designations. Then you are asked to confirm the changes, with a caveat that this cannot be undone in batch. Clicking Save locks in the change.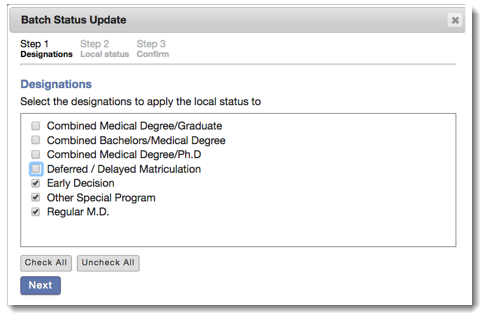 If the batch local status change cannot be applied to any applicant for any reason, a Batch Status Exceptions window appears with the applicant's name, ID, and other identifying information.
New Documentation
Please review the list of new reference guides, all accessible in the WebAdMIT Help Center.
| | |
| --- | --- |
| Document | Details |
| Invitation Code Reference Guide | This document provides information on invitation codes, a tool that enables you to offer individual deadline extensions to applicants. |
Coming Soon!
Please review the list of upcoming events, including scheduled downtime/maintenance, product updates, and regional training opportunities.
Event
Date
Details
Liaison User Conference
July 26-27, 2018
The 2018 Liaison User Conference is open for registration!

Be sure to register!
Sandbox Environment Refresh
August 6, 2018
The WebAdMIT Sandbox environment (sandbox.webadmit.org) will be refreshed with current (cleansed) production data and program configurations. Any test exports, custom fields, etc., in the current sandbox will be overwritten.