Configuring Marketing Settings
Last updated
The Marketing module in Outcomes allows you to send messages to users via Emails, Text Messages, and Voice messages. To work with these features, you'll first need to configure:
Email Information: This includes configuring your From Email Address and From Email Label.
Text and Voice: This includes configuring your From Phone Number.
Configuring Email Settings
Configuring your Email Settings allows you to establish how your emails appear to recipients, and where their replies go. To configure your email settings:
From the Settings page, open the Marketing menu and click Email Info.


Fill in the Sender Information.

From Email Address: this is the email address that emails are sent from. The email address you enter here appears on the From line when a recipient receives it.
From Email Label: this is the name that appears in the From section of the recipient's email.
From Domain: this is the sender domain used when communicating with the recipient's email provider.

Fill in the Contact Information.



From Email: the email address that appears as the sender when your emails are sent from Outcomes.
From Name: the name that appears as the sender when your emails are sent from Outcomes.
Reply-To Email: the email address that Outcomes uses when the recipient replies.
Reply-To Name: the name associated with your reply-to email address, e.g., Liaison University Admissions.
Sending Domain: the domain address Outcomes uses to indicate who the email is from. This should be entered with coordination from Liaison, as additional configuration is needed for this to work properly.
Website Address: a link to a page on your website. You can configure this to appear on the emails you send.
Mailing Address: your institution's address. You can configure this to appear on the emails you send.
Main Phone Number: your contact phone number. You can configure this to appear on the emails you send.
Privacy Policy Link: this is a link to your privacy policy. You can configure this to appear on the emails you send.
Configuring Text and Voice Settings
Configuring your Text and Voice Settings allows you to establish what phone number you'll use to contact applicants via text and voice messages. To configure these settings:
From the Settings page, open the Marketing menu and click Text and Voice.


If you don't have a phone number configured, enter your desired area code and click See Available Phone Numbers. These phone numbers are provided to you by Liaison. If any are available, they appear in a dropdown, allowing you to select which one you'd like to use.


Select a number and click Save to keep it. Going forward, Outcomes uses this phone number for your marketing text and voice messages. Note that this number is what applicants will see as the source of your message. These numbers aren't available for applicants to call, but, where applicable, when an applicant responds with a text, it appears in the Conversations module. Click Choose New Phone Number to search for another.
Reviewing Suppressed Communication
The Marketing tool in Outcomes suppresses some messages, preventing them from being sent. This can happen when:
an email address is found to be invalid, or
an intended recipient has opted out of receiving messages.
To review a list of suppressed messages, navigate to the Marketing section of the Settings menu and click Suppressed Items.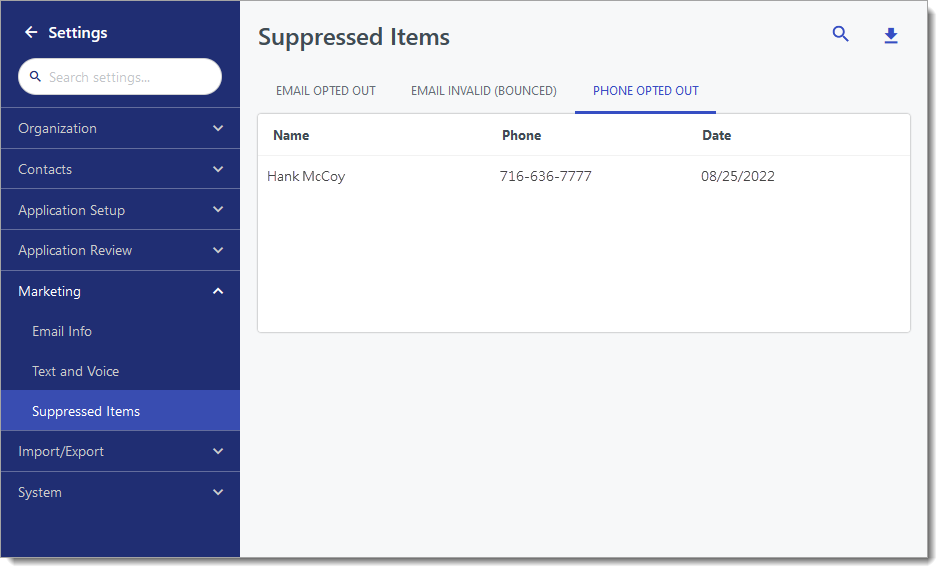 Use the tabs on the right to toggle between OPTED OUT EMAILS, INVALID (BOUNCED) EMAILS, and OPTED OUT PHONES.