SlideRoom Overview
Last updated
This guide provides an overview of the SlideRoom platform. If you're a student, admissions officer, or high school counselor who is new to SlideRoom, or if you want to help a student navigate SlideRoom during their application process, this is a good place to start.
Below you'll learn:
What Slideroom is
How organizations use SlideRoom
How applicants use SlideRoom
How SlideRoom integrates with the Common Application
What is SlideRoom?
SlideRoom is an online platform for schools or other institutions to receive applications, particularly those with digital portfolios. This allows applicants to easily include images, videos, music, or any other media they've created, along with their application.
SlideRoom portfolios are not public, so each portfolio a student creates is in response to the instructions and required items established by the organization they're applying to.
How Schools Use SlideRoom
Colleges and universities use SlideRoom to collect portfolios and applications that meet specific criteria. Each institution establishes their own programs, or application opportunities. Programs that are currently available and accepting applications are visible in each institution's unique SlideRoom applicant portal.
Once an applicant submits their application, the institution's reviewers can view and score the applications assigned to them. They can review all the media submitted as part of the portfolio section of the application, and highlight or comment on any item that stands out. Once the applications have been evaluated, each institution contacts its applicants as necessary.
How Applicants Use SlideRoom
After creating a SlideRoom account, applicants are sent an email with an activation link. Upon logging in, a filterable list of available programs appears.
After locating a program, applicants can click its name to view a detailed breakdown of all its requirements. They can begin applying by completing a form to provide their basic information, and then they can respond to any questions and media requests made by the program of their choice.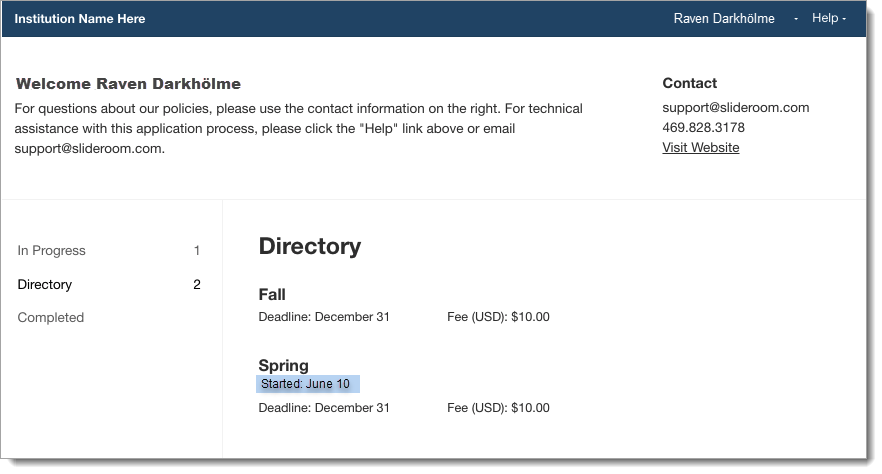 After submitting their application, applicants can log back into their SlideRoom account to access past submissions. From here, they can view and print their application, or download the media they submitted.
SlideRoom Integration with the Common Application
SlideRoom is the exclusive partner of the Common Application to collect and evaluate portfolio supplements. If a school is using the Common App, there will be a question in their application asking whether the student is applying to a program that requires a portfolio supplement. If required, applicants are redirected to the school's SlideRoom portal.
If the applicant already has a SlideRoom account, they can log in using their email and password. Their Common App ID, High School CEEB code, Name, Email, Entry Term, and Decision Type all transfer automatically to their SlideRoom portfolio, allowing the organization to match the applicant's SlideRoom submission to their Common Application submission. If the applicant goes to the institution's SlideRoom portal on their own, without following the Common App link, they can use their Common App ID during the application process.
For more details about The Common Application for transfer, see the links below: