Managing Local Statuses
Last updated
Creating Local Statuses
Local Statuses allow you to categorize and track applicants throughout the application cycle. You can create as many Local Statuses as needed to match the different stages of your admissions process.
Optionally, Local Statuses can be matched to AMCAS Admission Action Codes (Decision Codes) so that when you change an applicant's Local Status, WebAdMIT for AMCAS automatically updates the AMCAS Admission Action Code.
AAMC uses two sets of business rules that dictate 1) which Action Codes an applicant can be placed in based on their current Action Code, and 2) which Action Codes applicants can be placed in based on the program type they applied to. WebAdMIT for AMCAS honors these Transition Rules when users attempt to change Local Statuses.
To create a Local Status:
Using the Menu Bar, open the Management panel, then click Local Status.
Click New Local Status.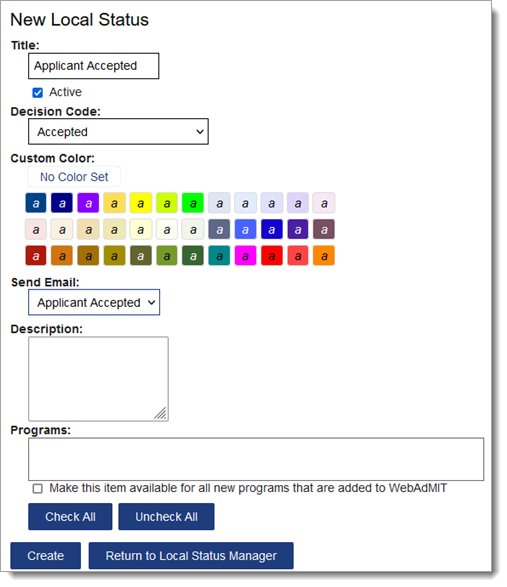 Enter a name and select whether the status is active.
Select the related AMCAS Admission Action Code.
Choose a color to visually represent your status.
Select an Email Template to link to this Local Status. When an applicant is moved into this Local Status, a dialog box prompts you to send, edit, save as a draft, or do not send the linked email template. Note that this option only appears when email templates exist.
Enter a description, select the programs associated with this status, then click Submit.